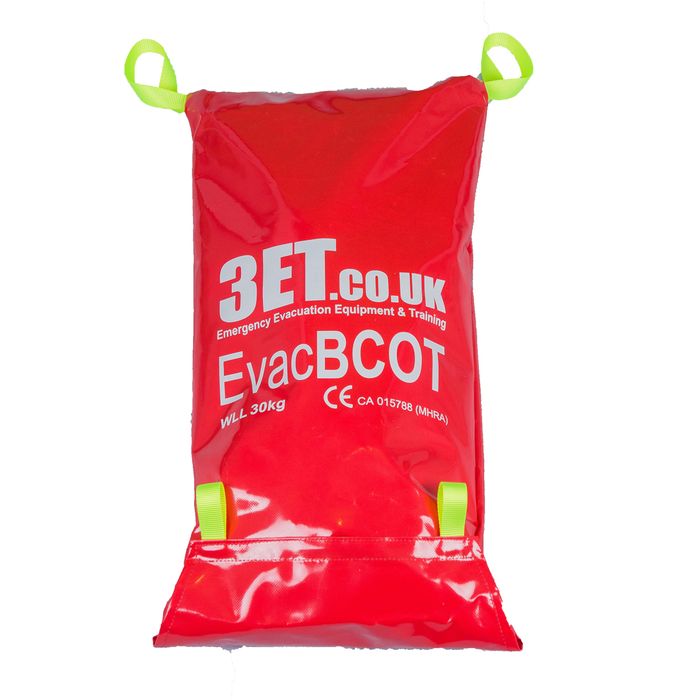 The evacuation cot allows a single premature or new born baby to be quickly carried to safety along with a CD, D or E-type oxygen cylinder if required, while keeping the carer's hands free to administer urgent care and exit the building safely.
Easy to operate singlehandedly, the ergonomic backpack-style carry system has a flexible, strong construction that makes it easy to handle while providing support and protection to the baby.
Once evacuated, the EvacBCOT can be used as a temporary, safe enclosure where the baby can be monitored and cared for until it can be transferred back into a medical care facility.
The EvacBCOT is manufactured in the UK from wipe-clean, flame-retardant PVC with high visibility straps and retro-reflective tape.
The cot is stored in a compact wipe-clean wall-mounted storage bag ready for immediate use.
Packed size: 75cm x 35cm x 10cm
Deployed size: 60cm x 30cm x 25cm Padding 1.5cm
Weight: 2kg
Safety tested to: 50kg
Working Load Limit (WLL): 30kg
Material Construction: Heavy duty Flame-Retardant PVC, 33H foam padding, 50mm Hi Viz Yellow shoulder webbings with quick adjusting heavy duty Acetal trident buckles. P300 Plastic sheet reinforcement, Reflexite retro-reflective tapes.
Country of Origin: Manufactured in United Kingdom.
Conforming Standard: CA 015788 (MHRA)