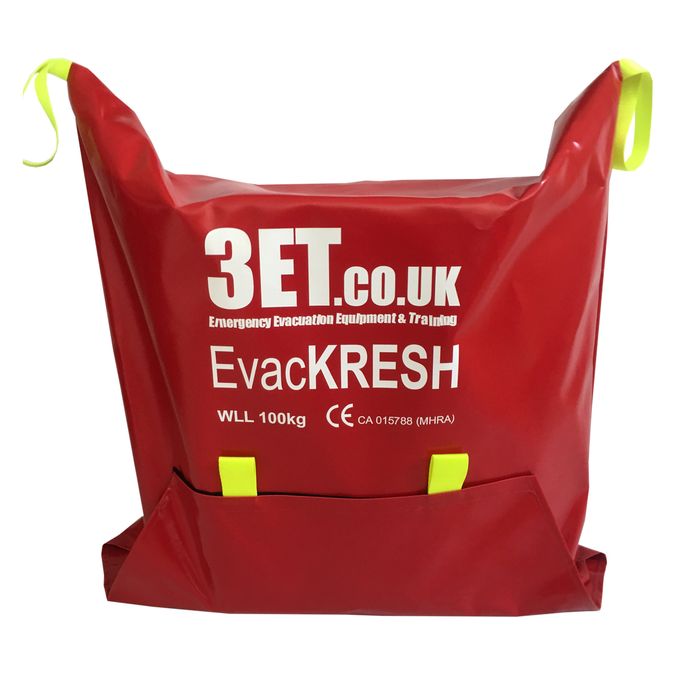 Quick and simple to deploy and load, babies are placed into three secure, padded compartments before being slid to safety.
The compartments are open space allowing each one to take as many infants as their size will allow, up to 12 in total. A light mesh cover secures the infants and allows for them to be easily monitored during the evacuation while the durable hard plastic base slides easily over most floor surfaces.
The EvacKRESH baby evacuation system can be operated by a single person in a horizontal evacuation or two people if the route involves stairs.
Manufactured in the UK from easy clean flame-retardant PVC, it features high visibility soft touch pulling straps, 50mm foam padding and comes with a wipe-clean wall-mounted storage bag.
Packed size: 75cm x 60cm x 30cm
Deployed size: 200cm x 61cm x 30cm (LxWxH)
Weight: 9kg
3 x Infant Compartments: 48cm x 51cm x 25cm (LxWxH)
Safety tested to: 150kg
Working Load Limit (WLL): 100kg
Material Construction: Heavy duty Flame Retardant PVC, 33H foam padding, P300 plastic base, 50mm Hi Viz Yellow soft touch pulling webbings, Heavy duty 10mm white mesh
Country of Origin: Manufactured in United Kingdom
Conforming Standard: CA 015788 (MHRA)