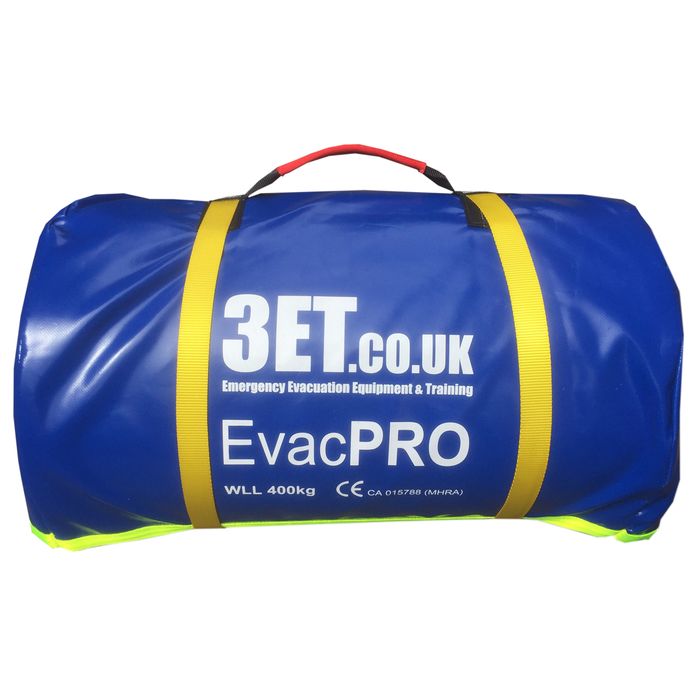 Featuring a durable, hard plastic base to maximise the use of sliding techniques, its ergonomic design includes pulling ladder handles, side ladder handles and additional lifting handles to reduce the risk of injury to those performing the evacuation. Heavy-duty anchor loops at the head and foot end can be used as extra handles or for attaching safety lines for evacuations on slopes or stairways.
Quick and easy to use, simply unroll the emergency evacuation stretcher and transfer the individual, padding with pillows and blankets if available. Six strong, colour-coded safety straps with heavy-duty metal seatbelt-type buckles secure the patient in place while the length can be adjusted by rolling up the foot pocket.
Designed to hold the patient securely but with the flexibility to negotiate obstacles, further support and stability can be added by inserting a standard medical long board into the long board pocket on the upper surface of the EvacPRO if needed. This can be performed with or without the patient in the stretcher, from either the foot or head end.
Manufactured in the UK, the EvacPRO is made from heavy-duty, flame-retardant PVC. When not in use the EvacPRO can be rolled and stored neatly in the integral foot pocket.
Packed size: 55cm x 30cm x 30cm
Deployed size: 206cm x 152cm x 2cm
Weight: 11kg
Safety tested to: 500kg
Working Load Limit (WLL): 400kg
Material Construction: P300 Plastic base (black 2mm board is replaceable), heavy duty PVC upper, 50mm colour coded safety webbings fitted with metal seatbelt type adjustable buckles.
Country of Origin: Manufactured in United Kingdom
Conforming Standard: CA 015788 (MHRA)