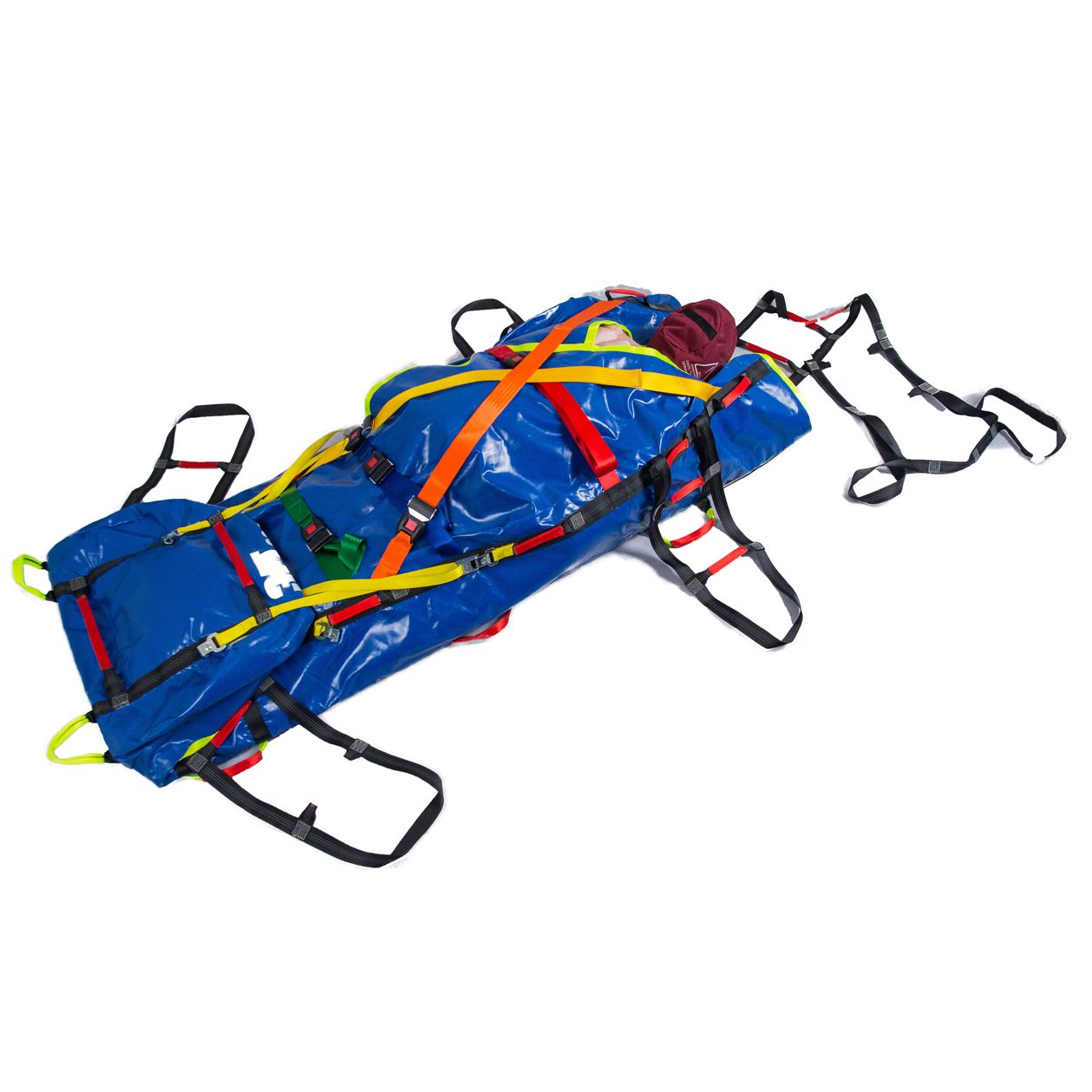 Featuring an extra-large slide sheet and durable, hard plastic base to maximise the use of sliding techniques, its ergonomic design reduces the risk of manual handling injury to those performing the evacuation. Fixed and additional movable ladder handles allow up to ten or more operatives to work together to move the patient.
The EvacPRO+ has a working load limit of 400kg and can accommodate patient circumferences of over 4m. Designed to hold a heavier individual securely while maintaining the flexibility to negotiate obstacles, further support and stability can be added by inserting a standard or oversized medical long board into the long board pocket and / or sliding hoisting poles into the side guide pockets on the upper surface of the EvacPRO+. This can be performed with or without the patient in the stretcher, from either the foot or head end.
The EvacPRO+ can also be hoisted when used with the 3ET EvacPRO+ Hoisting Kit.
Manufactured in the UK, the EvacPRO+ is made from wipe-clean, flame-retardant PVC with six colour-coded securing straps, all with heavy-duty metal seatbelt-type buckles. It is rolled into the foot pocket for storage and transportation.
Packed size: 70cm x 35cm x 35cm
Deployed size: 230cm x 260cm x 2cm
Weight: 14kg
Safety tested to: 600kg
Working Load Limit (WLL): 400kg
Patient Capacity: Height < 2.3m Circumference < 4m
Material Construction: P300 Plastic base (black 2mm board is replaceable), heavy-duty Flame-Retardant PVC upper, 50mm colour coded safety webbings fitted with metal seatbelt type adjustable buckles.
Country of Origin: Manufactured in United Kingdom
Conforming Standard: CA 015788 (MHRA)