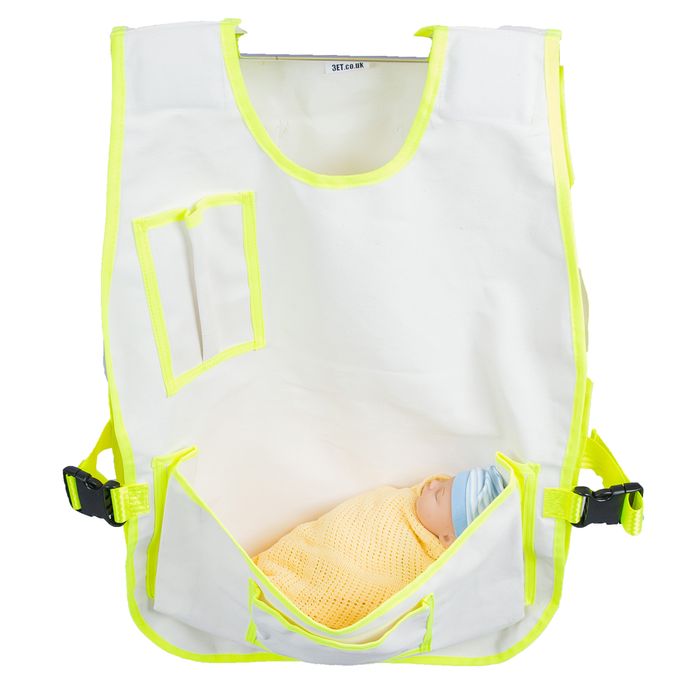 The tabard fits over the carer's head with a carry pouch to the front and secure storage pocket at the back for a small oxygen cylinder, if required.
Up to two babies can be carried in this way depending on their size and condition, leaving the carer's hands free to tend to the infant and evacuate the building quickly and safely.
The EvacTAB is manufactured in the UK from heavy-duty flame-retardant canvas and features foam padded shoulders for comfort and stability and side-fastening trident buckles for quick adjustment.
A wipe-clean wall-mounted storage bag keeps the apron clean, tidy and ready for immediate use.
Packed size: 60cm x 30cm x 3cm
Deployed size: Tabard: 80cm x 60cm, Pouch: 50cm x 30cm x 15cm
Weight: 1.3kg
Safety tested to: 50kg
Working Load Limit (WLL): 30kg
Material Construction: Heavy duty Flame Retardant Canvas, 33H foam padding, 50mm Hi Viz Yellow webbings with quick adjusting plastic buckles. Wipe clean PVC wall mounted storage bag.
Country of Origin: Manufactured in United Kingdom
Conforming Standard: CA 015788 (MHRA)