RUSH+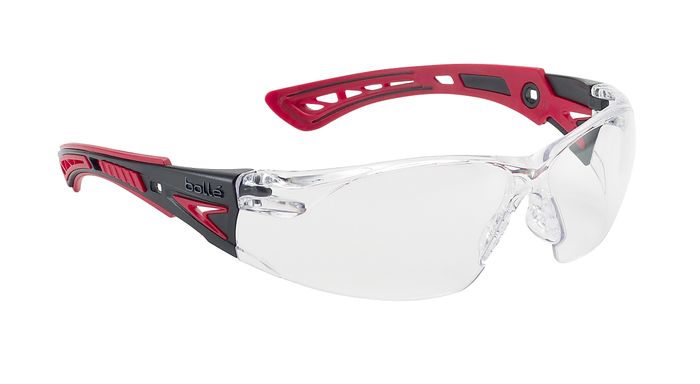 Rush+ from Bollé Safety is the epitome of safety, style, protection and performance.
Ultra enveloping and without any visual interference the Rush+ from Bollé Safety provides the wearer with a 180° panoramic visual field with perfect optical class 1, PLATINUM double sided anti-scratch and anti-fog polycarbonate lenses. The Rush+ has a wide range of lens options – clear, smoke, CSP and Twilight and is also available in a small size.
New to the range is the unique and revolutionary Rush+ Glow with its Phosphorescent temples which glow in the dark when exposed to only 5 minutes of light. The new Rush+ Glow allows the wearer to be seen in the dark keeping them safe during night time working.
Bollé Safety revolutionizes eye protection with an innovation that exceeds the requirements of all international standards, especially the EN166 K and N option. The new exclusive anti-fog and anti-scratch PLATINUM coating is now available on Rush+, Silium+, Slam+, Cobra, Contour, IRI-s plus Atom, Baxter, Coverall, Pilot and Tracker goggles. It also guarantees greater safety, reliability and comfort. This permanent coating on both sides of the lens gives them a high resistance to scratching, to the most aggressive chemicals and delays the onset of fogging. In all circumstances and at all times the Platinum lens innovation guarantees your eyes improved protection.
The new CSP and Twilight lens technology offers the advantages of ESP but with a PLATINUM goggle is now available for fire fighting with its co-injected sealed frame that garantees adaptability and unequalled comfort. double anti-fog coating (on both sides of the lenses) to prevent fogging in the most challenging conditions.
Designed and used in low light conditions, it improves contrast. Its light transmission rate is perfect for outdoors, particularly early morning and late evening. Twilight filters 76% of blue light.
With ultra thin dual injection non slip sports temples, adjustable non slip bridge and the ability to add a SBR foam seal and wide adjustable strap with high levels of protection this makes the Rush+ the epitome of style.