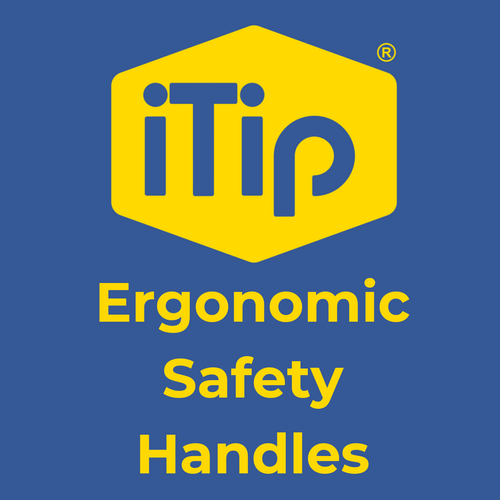 ITIP Handles
Stand: 4/M80
| Manual Handling Equipment
| Occupational Health and Wellbeing
| Personal Protective Equipment
| Risk Assessment
| Warehouse Safety
| Workplace Ergonomics
Adding iTip® Safety Handles is an effective way to reduce manual handling injuries. They have been thoroughly tested by the Health and Safety Executive (HSE). By adding to wheelbarrows, sack trolleys, roll cages and wheelchairs they can add protection to construction, health workers, distribution and landscapers. Manufactured in the UK.
Address
iTip, Unit 3
Toutley Industrial Estate, Toutley Road
Wokingham
Berkshire
RG41 1QN
United Kingdom
Video Gallery
For situations where it is not possible to put a cleaning process in place. Because it rotates on a metal bolt it reduces the chances of substances such as cement setting and blocking the mechanism.

The HSE state that 12,000 non-fatal injuries from lifting, moving and carrying occur on-site every year. Rotating handles reduce the chance of strain and injury when moving and rotating laden barrows.

Roll cages are designed to move goods around from distribution till they eventually arrive on the retailer's shelf. They are dangerous when handled, offering little protection and comfort to the user.
Press Release
We are excited to announce the latest improvement to our product line. Safety Handles can now be easily attached and detached from any cage without any modifications or preparations.

Meet iRoll®, the smart and innovative solution for safe and comfortable cage handling. You don't have to worry about which cage you are using, as nothing is needed or left on the trolley after you are done with it!

iTip is pleased to demonstrate spill kits uniquely harnessing the safety values of iTip Handles. Not only do they feature a full set of equipment for both chemical and oil spillages but they use sack trolleys and roll cages to make sure ALL equipment that could be used is in place very quickly.