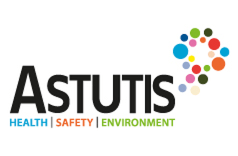 Astutis
Stand: 4/H30
| Environmental / Waste Management
| Occupational Health and Wellbeing
| Risk Assessment
| Safety Software
| Training and Qualifications
| The Health & Safety Event
| New Exhibitor
Astutis inspires employees to work productively and safely. Our Chartered experts train people in NEBOSH, IOSH, IEMA and IIRSM courses so they have the know-how to make a positive difference.
Our market-leading training has transformed 1000's of careers and improved company performance in over 130 countries.
Address
Unit 6, Charnwood Court, Parc Nantgarw,
Unit 6, Charnwood Court, Parc Nantgarw,
Cardiff
South Glamorgan
CF5 2BT
United Kingdom
Video Gallery
Astutis has a great record of top-performing candidates winning the NEBOSH Diploma awards every year! In 2019 Astutis had 2 NEBOSH Diploma best performing candidates with top marks in units B and C.

Astutis offers IOSH Managing Occupational Health and Wellbeing as an online course. It provides managers with practical advice and tools to help create a healthy and productive workplace. It's an inte ...