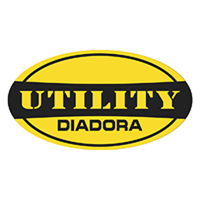 Diadora S.p.A.
Stand: 4/G148
| Personal Protective Equipment
| Footwear
| Workwear
| The Health & Safety Event
Utility is Diadora's workwear line, reference point in Italy in the safety shoes and apparel sector.
Since 1998, Utility has stood a cut above the rest with a philosophy that pivots on the union between Diadora spor DNA and technological innovation, so as to offer products that ensure maximum safety.
Video Gallery
Press Release
Diadora Utility is the Diadora brand's workwear line. The brand - which has been a major player in the safety clothing market for more than 20 years now - offers effective and completely safe workwear solutions by combining technological innovations and research with unique designs. The Diadora Utility 2021 collection further expands the company's well-established footwear and clothing range, by focusing on three new key concepts: outdoor inspiration, sustainability and cushioning.