22 Mar 2023
ADAPT Mask Glasses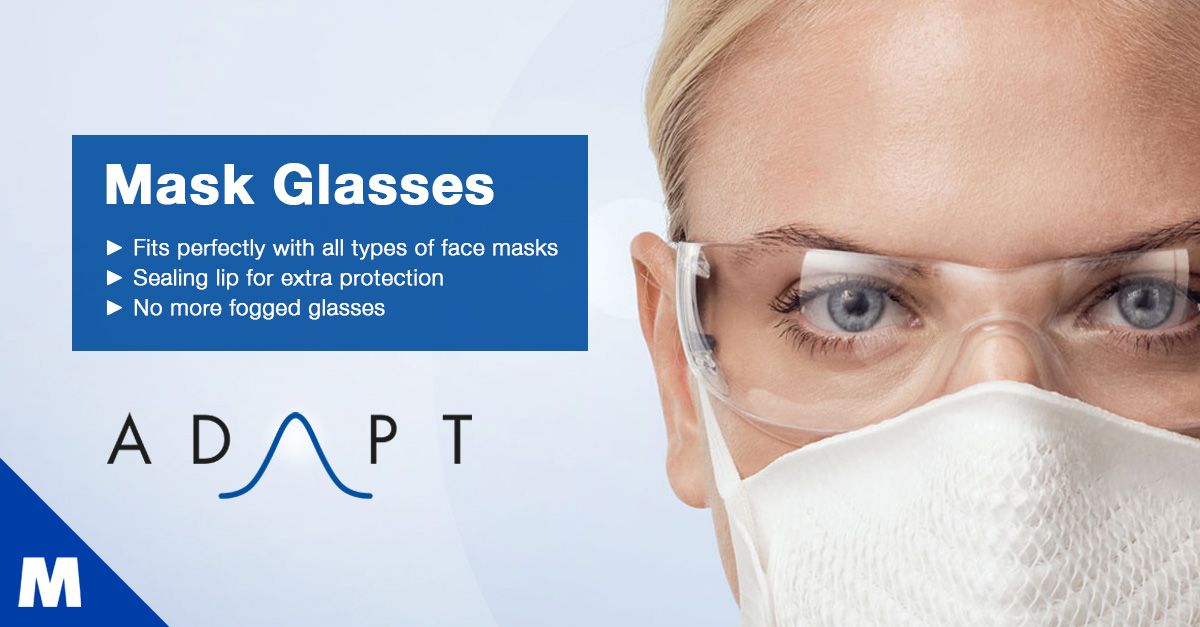 Launched in October 2022 Moldex introduced ADAPT Mask Glasses! The only glasses on the market that have been designed to fit perfectly with all types of tight fitting FFP's and half masks!
As a manufacturer of respiratory protective equipment (RPE) for over 30 years, a repeated issue our customers and RPE users encounter is the compatibility of safety glasses with respiratory masks. In most cases, when FFP masks or half masks are combined with safety glasses there is not enough room to safely wear both items, resulting in either the safety glasses or mask not fitting properly. The position of the RPE can push the safety glasses up too high, causing obscured vision and creating gaps around the glasses, potentially allowing debris to fly into the eye. Alternatively, the position of the safety glasses forces the RPE to sit too low on the face, leading to face seal leaks, which significantly reduces the protection provided, therefore putting the wearer's health or even life at risk. The latter is often identified by RPE wearers complaining that their safety glasses are steaming up when combined with tight fitting RPE, this is an alarming indication that the RPE is not fitting correctly.
Prior to the launch of ADAPT, there wasn't a single solution to resolve the problem of safely combining protective eyewear and respiratory masks. Finding a resolution that worked would vary dramatically between products and face shapes/sizes. With ADAPT we have developed an innovative pair of safety glasses with a unique design that allows both mask and glasses to fit securely and comfortably without any compromise! Our technically designed toric shaped lens is unique to Moldex and is historically used in the development of lenses and glasses to correct eyesight. The lens development provided our biggest technical challenge and cannot be found on any other safety glasses on the market. By reducing the lens dimensions and creating a toric shaped lens it provided the required space in the eye area whilst offering a close fitting design, therefore allowing ADAPT to fit with any type of tight fitting FFP or Half Mask. The flexible sealing lip on the lower edge supports this design and replaces bulky nose pads found on standard safety glasses. In addition to contributing to the combined fit with respiratory masks, this flexible lip is unique to ADAPT and provides all round protection from flying particles that can only normally be achieved with safety goggles.
Moldex are aware that this issue is wide spread and occurs with a range of RPE styles, models and brands. We have therefore developed safety glasses that are compatible with all types of tight fitting FFP's and Half Masks, not just Moldex! This makes the safety benefits of this product available to a much wider audience than if only compatible with our own range of respiratory products, therefore this product is a solution for anyone who combines tight fitting FFP's and/or half masks with safety glasses!