15 Mar 2023
Armor Guard The BEAR - 2023 finalist of the BSIF Product Innovation Award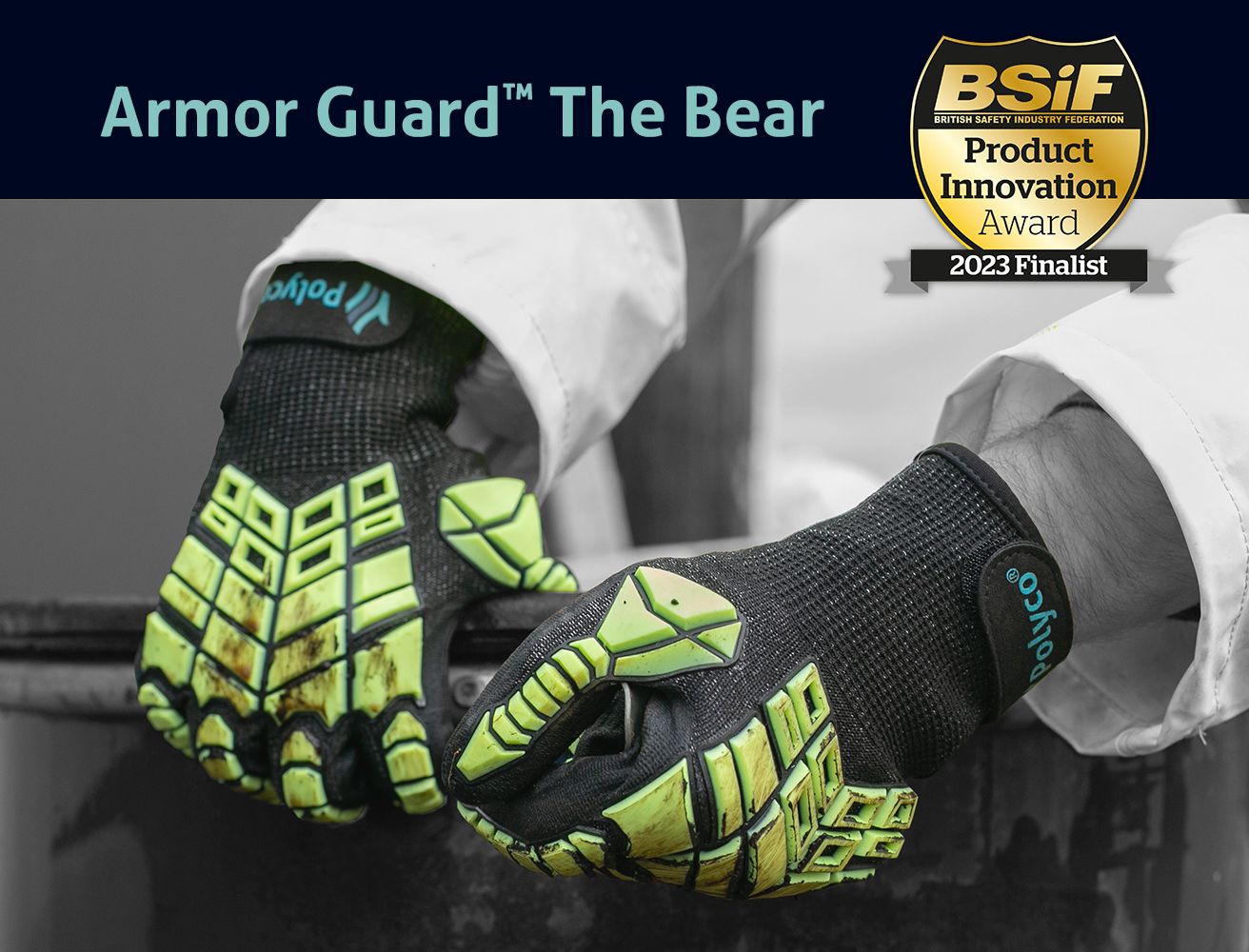 Polyco Healthline are proud to announce that their Armor GuardTM The BEAR glove has been shortlisted for this year's BSIF Safety Awards in the Product Innovation category: PPE.
The company brought to market the first seamless knitted cut and impact resistant glove, that has a completely waterproof membrane. Armor GuardTM – The BEAR, is an ISO cut E glove, with hot and cold protection, a Velcro cuff, touch screen enabled, impact resistant and made in part from recycled plastic. All without affecting wearability, durability and dexterity.
The BEAR combines three breakthrough technologies: recycled PET yarn (rPET), cut resistant rPET yarn blending and waterproof membranes. The layered bonding process of a waterproof membrane within a cut resistant shell represents a step-change in hand protection.
Developed with the offshore market in mind, where workers are faced with extremely tough environments and unforgiving outdoors conditions. We believe that by developing a glove in conjunction with the toughest application on earth, we can offer a solution that can be used in the widest set of other sectors imaginable.
Armor GuardTM - The BEAR has been constructed to make sure that all hazards are addressed ensuring that there are no injuries as a result of not wearing correct PPE.
70% of hand injuries happen when the worker is not wearing gloves. We believe workers do not wear gloves because the gloves are too thick or cumbersome, not comfortable enough, too hot or not warm enough, wrongly suited for weather conditions.
The offshore energy industry is undeniably one of the most dangerous occupations in the world with the fatality rate nearly eight times the national workplace average. As such we often see that decision makers focus only on one primary hazard, be it cut resistance or abrasion resistance. However, some gloves on the market achieve this at the sacrifice of dexterity. We would expect to see an increased risk of drops of tools resulting in injuries to other body parts if dexterity is too poor.
Another key factor often overlooked, and closely linked to dexterity - is grip. Grip should consider ambient conditions, apparatus conditions and gripping surface. For work offshore weather can play a huge role in grip, if handling parts covered in oil and sludge isn't bad enough, then the combination of rainwater and oil can be nothing short of lethal.
In the wind power sector, workers servicing the nacelle must work outside in all weathers, and climb an unforgiving 293 ladder rungs to the top. Fall arrest PPE is often given good consideration, however PPE that reduces the risk of a fall is often overlooked. Gloves with excellent dexterity and grip will allow the wearer to feel the rungs, reducing the tendency to 'over grip' causing premature fatigue and increased likelihood of accidents.
Often the most efficient way to be more conscious of the environment is to 'reduce' consumption. Choosing hand protection that is of a relevant colour can reduce premature discarding due to gloves appearing dirty. This is particularly important in offshore drilling where seabed sludge can make a glove appear dirty almost instantly.
Consider the manufacturing process of a glove, often nylon or polyester is used as a yarn choice. These materials are plastics and as such are oil derivatives. Our all-in-one solution, Armor GuardTM – The BEAR, is made from recycled plastic bottles which helps reduce our reliance on virgin polyester as part of our #phAMBITION for a greener planet.
Come along to our stand where we will be conducting product demonstration to showcase the waterproof capability of the glove.