17 May 2021
Live event on lone and remote working makes a timely return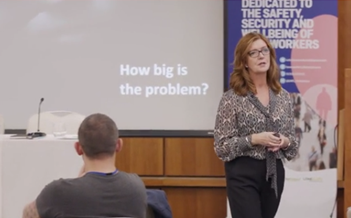 Covid-19 has created more lone and remote workers than ever before, and businesses faced with managing the associated safety and wellbeing risks are calling out for the Lone Worker Safety Live event to return to share the knowledge and experience of its experts.
Almost all of 50 of the UK's biggest employers questioned by the BBC in a recent survey said they do not plan to bring staff back to the office full-time[1]. So, as organisations continue to review where their workers will be based as the UK opens fully after lockdown, many are looking for guidance on developing robust systems to engage with remote workers longer term and design effective processes for managing and monitoring wellbeing and safety risks.
Nicole Vazquez, organiser of Lone Worker Safety Live says "There has always been a level of uncertainty around who is classed as lone or remote workers and what organisations should put in place to protect this group of workers. The Health and Safety Executive revised its guidance in March 2020 and amongst other changes it makes it clear that businesses should consider and address the wellbeing risks for home workers".
Nicole continues "Over the past year, managers and staff have had to adapt quickly to the changes brought about by Government mandates. Now as we see that for many remote working is here to stay, it is clear that some businesses need to think about their control and support measures for the longer term".
Cancelled in 2020, Lone Worker Safety Live continued to offer webinars and information via its website. But exhibitors, speakers and delegates alike are thrilled that the event will be going ahead as planned in 2021 on Tuesday 12th October at Lord's Cricket Ground, London.
Lone Worker Safety Live offers delegates the opportunity to listen to leaders in the lone worker community, see what technology there is on the market to safeguard workers and get involved in interactive workshops. A day that is designed to welcome newcomers to the lone worker community, opening eyes to previously unforeseen risks, whilst at the same time allowing those who already manage remote and lone working to check against best practice.
Nicole Vazquez concludes "Last year was so challenging for businesses and individuals alike. Lone Worker Safety Live was not immune to the impact, but now we can bring the event back, bigger and better than before at our new venue, it feels like it was worth the wait".
For more information about the event, or for photographs, you can contact Nicole Vazquez or Louise Charles on info@loneworkersafetylive.com or visit the website www.loneworkersafetylive.com
Worthwhile Training, the organisers have been involved in managing the safety and security of lone workers for over twenty-five years. Nicole Vazquez, the host for the event, is well respected within the industry and is a regular speaker at national conferences and works within many sectors providing advice and training to support businesses and help keep staff safe.
Key exhibitors on the day are:
SoloProtect
LoneAlert
Reliance Protect
Community Partner:
Orbis Red Alert
Plus thirteen other trusted organisations who provide solutions for lone workers
Attendees can claim a full day CPD points for attending the events educational sessions.
---
[1] https://www.bbc.co.uk/news/business-56972207