26 Jul 2021
NEW from City Technology: Next Generation Gas Sensors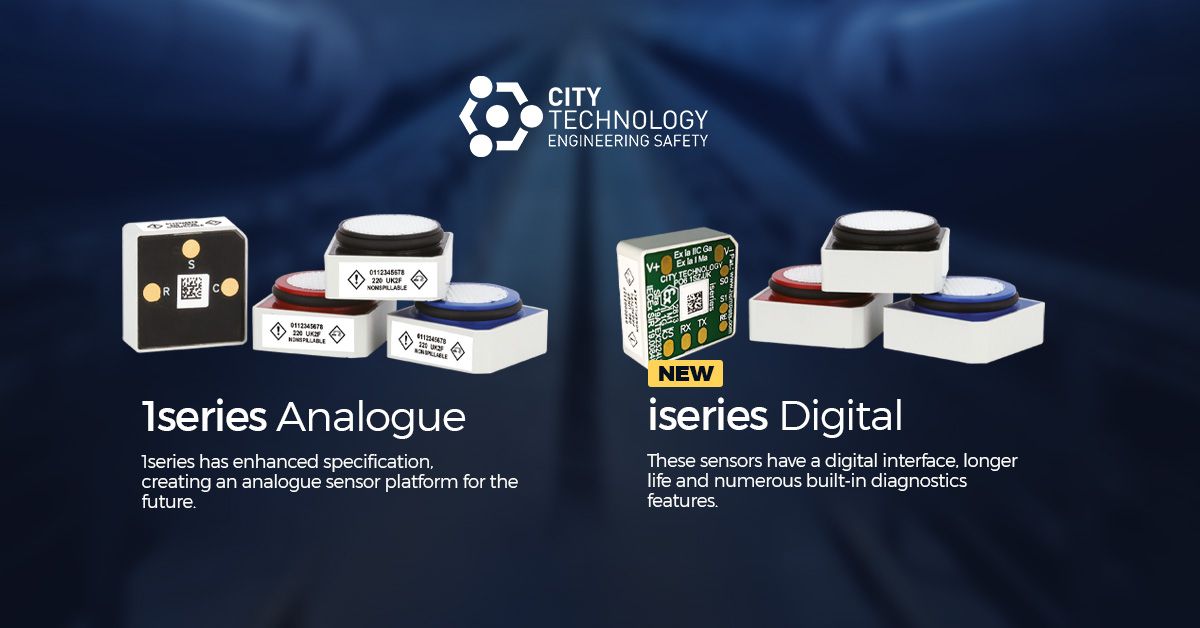 City Technology has recently introduced their new slim profile intelligent digital (iseries) alongside their analogue (1series) gas sensors. Both models are more than 60% slimmer than a 4 series sensor and now come with an extended operating life of five years, as well as improved temperature and humidity performance. Both types can be easily identified with the unique housing colour for each gas type.
iseries Sensors (Digital)
The iseries' intelligent diagnostic features help to enhance the overall instrument performance, making them smarter and safer by indicating faults and monitoring health, decreasing downtime and cost of ownership.
The ease of integration, combined with pre-calibration, provides a significant benefit to OEMs and users in terms of integrating these sensors into new instruments. In-built OEM lock code can be used to prevent unauthorized third-party replacement of sensors in the field. With improved performance, iseries sensors are ideal for use in wide range of applications and climatic conditions.
iseries sensors are ATEX and IEC Ex Certified (EN IEC 60079-0 and EN IEC 60079-11) and are designed to meet multiple performance standards, including BS EN 45544-1:2015, BS EN 50104:2010, ANSI/ISA 92.00.01-2010, ANSI/ ISA 92.04.01:2007 and AS/NZS 4641-2007.
Available now:
Electrochemical: CO, H2S, SO2 & O2
Pellistor: LEL
Expected Q4 2021:
Electrochemical: NO, NO2, O3, Cl2, H2S (extended operating range), LEL (IR).
Expected Q2 2022:
Electrochemical: H2, NH3, dual CO/H2S, dual CO/H2 & H2S (extended operating range).
Digital interface:

UART protocol to communicate with the instrument. Chip select option to interface with more than one sensor.


Interchangeable:

All intelligent sensors have the same dimensions and communication protocol. Supply voltage of all sensors is in the range from 3.1 V to 3.3 V.


Digital traceability:

Serial number, manufacturing date, and gas type for quick and easy identification of the sensor.


Pre-calibrated sensors:

Calibrated during manufacturing with calibration data written in the sensor. Eliminates the need for field calibration when replacing sensors.


Predictive calibration:

Self-predicts when its accuracy is becoming too poor to give a reliable, accurate reading (advanced warning for recalibration due).


End-of-life indication:

Self-predicts in advance when sensitivity is falling too low to give a reliable, accurate reading (advanced warning for sensor replacement).


Fault indication:

Detect several internal faults like open circuit sensing/high impedance electrode, drift/fault in reference electrode, electrolyte concentration out of range and counter electrode fault.


Compact form fit:

The design also simplifies target gas access to the sensor face.
The New iseries Gas Sensor Evaluation Kit:
Quicker, easier sensor evaluation:

Simplify sensor evaluation by eliminating the need for the customers to write any code.


Command set window:

Allows the user to visualise how the packets of data are being transferred, considerably reducing the development process.


Simulation mode:

Simulates the response of different sensors and their response to gases without the need to have the physical sensor.
1series Sensors (Analogue)
City Technology also offers the slim profile 1series analogue gas sensor range. Traditionally, sensors are fitted within instruments. With the 1series low-profile design, the sensors have turrets to mount into the front of the instrument required, minimizing the instrument height and easing the sensors access to gas.
1series sensors are also designed to meet multiple performance standards, including ANSI/ISA 92.00.01-2010, ANSI/ISA 92.04.01:2007, BS EN 45544-1:2015, BS EN 50104:2010 and AS/NZS 4641-2007.
Low profile:

1series unique compact square sensor design meets the requirement for thinner, more lightweight gas detectors and eases instrument design & manufacturing.


Enhanced specifications:

Engineered with an operating life of five years, the 1series excels in challenging and extended temperature and humidity extremes.


Surface mount spring contacts:

No PCB through holes to maximise sensor mounting flexibility.


Sensor platform for the future:

1series takes trusted City sensor technology and uses the same form factor of future platforms.


First wave: CO, H2S, O2, SO2, LEL (combustible gases).


Second wave: NO, NO2, O3, Cl2, LEL.
For further information on City Technology Sensors, click here
Get in touch today Tel: 01367 899418 solutions@shawcity.co.uk